2008
6,000,000 impressions: handcrafting the book experience is an exhibition showcasing the process and output of Tara Books, at St Bride Library London. One of the things that make Tara Books unique is their genre of books made entirely by hand.
The enterprise is a fascinating study of craft and mass production. Tens of thousands of titles created in a small workshop in Chennai, India by hand using silkscreen and letterpress and book binding craft techniques are shipped to various parts of the world – LA, Berlin, Moscow, London, Tokyo…. the list keeps growing.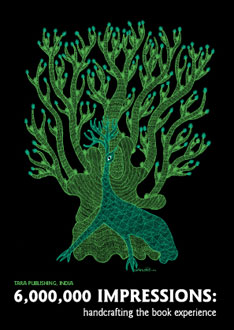 A6 Invitation
These are books that, as Gita Wolf, Tara's publisher puts it, 'refashion traditional artisanal skills into fine contemporary bookmaking'.
Designing the poster and flyer for the exhibition was fun. Keeping in mind the spirit of Tara's initiative, the publicity material was entirely (and painstakingly) printed by hand in India on handmade paper. The peacock on the poster is an image by the Gond artist Ram Singh Urveti from the book The Night Life of Trees.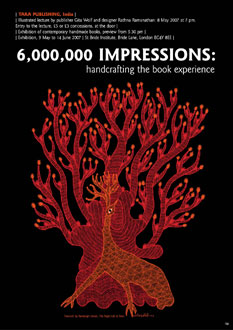 A3 Poster
Chennai,craft,exhibition,London,poster,production,-