2005
One of BBC Hindi World Service radio's key messages in India was the translation of their strap-line 'Connect to the World' into Hindi ('Jhode apke duniya se'). This was the primary message on postcards designed to work as give-aways to the audience at the 2005 BBC roadshows in the Hindi Heartland. On the front, the main imagery used was Gond artist's BBC Radio Bird, created specifically for the purpose of the campaign. Whilst the back of the postcard carried signatures of the people behind the voices heard everyday by the audience on BBC Hindi radio in India. It also carried information about the content of specific shows and the timings of daily broadcasts. The card was printed in Chennai, India on 270gsm card using offset printing.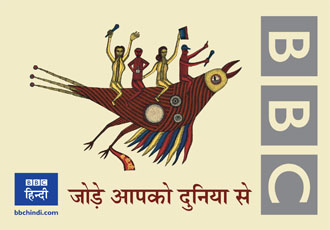 The front of the BBC Hindi Roadshow postcard.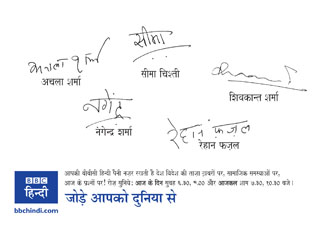 The back of the BBC Hindi Roadshow Postcard.
BBC,folk,media,rural,India,-