Radio Birds for Road Shows (2)
2005
There are a few ways in which artists or illustrators and book designers can work together in the context of communication design. A friend of mine who works in publishing regularly commissions and art directs illustrators to fulfil her vision for book jackets. Here, the role of both is quite clear and fixed. The book designer provides conceptual direction and even design samples and hints. Speaking generally, it is the designer that is the driving force of the work. The illustrator 'envisions' the designer's concept using a particular illustration style and media.
With the BBC Hindi campaign, the relationship between indigenous artist (Bhajju Shyam) and designer was more fluid and iterative. When I flew down to India from London to meet with Bhajju, I had in hand a sketch which represented the thinking behind the main concept: a radio bird.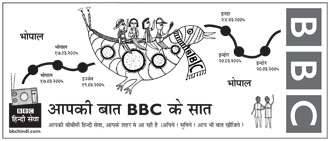 Initial sketch for the BBC Hindi campaign.
Everyone involved (the client – Karen Yates who was our point of contact at the BBC – and the design team consisting of myself and Mariana Zegiannini of Alan Bates Design) were clear that this was simply a starting point that could be changed and improvised by Bhajju Shyam who was our expert. We were keen to rely on Bhajju's knowledge of the local context and his background. In many ways, he was exactly the kind of listener that the BBC was trying to reach out to. In every sense, it was really Bhajju who was authoring the concept.
When working with an artist, the role of the designer (as was this case) is to provide context and conversation rather than art direction. It would be pointless to art direct the work to the point that the artist's input is aesthetic rather than authorial. It would equally pointless for an urban Indian (myself) to tell Bhajju Shyam, an Indian living in rural India about how to communicate with people from his locality simply because I was 'The Designer'. After showing Bhajju the inital sketch, I put it away so he wouldn't feel obliged to be influenced by it and reiterated the importance and value of his vision for the campaign. I also gave him some context for where the art would appear and how it would be reproduced as this would influence his thinking about colour, size and detail.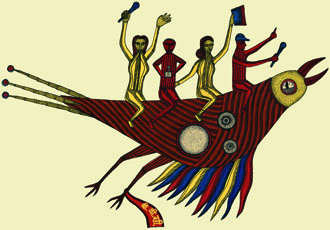 The BBC Hindi Radio Bird by Bhajju Shyam.
Bhajju's resulting 'radio bird' was stunning and hit the nail on the head absolutely perfectly. There was painstaking attention to detail, a warmth and liveliness and a real wit in the imagery. The quality of the illustration demanded that it become the central focus of the BBC Hindi roadshow campaign.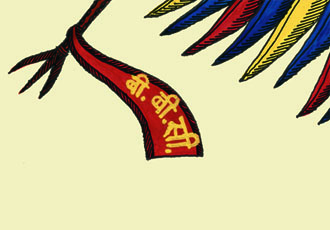 A little cloth tag on the bird's leg identifies that it is a BBC bird. The initial in Hindi read B.B.C.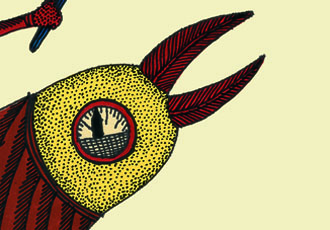 The radio bird's eye is a radio dial.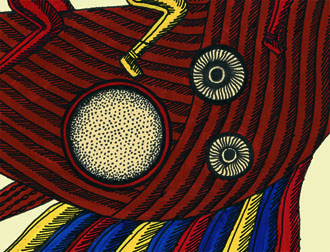 The bird's belly has radio speakers.
BBC,collaboration,folk media,mass media,rural India,-