2009
'Short run': experimental book design and London's little presses was an exhibition I curated at St Bride Library, London. Based on my PhD (at the Department of Typography, University of Reading) the exhibition showcased the book design and production practices of five London-based little presses: Stuart Montgomery's Fulcrum Press, Stefan and Franciszka Themerson's Gaberbocchus Press, Roy Lewis's Keepsake Press, Asa Benveniste's Trigram Press, and Bob Cobbing's Writers Forum.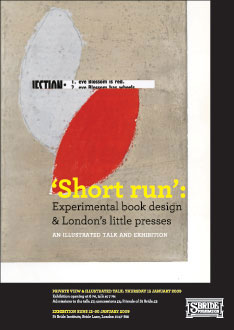 Each of the five little presses featured in this exhibition had a unique approach to publishing and was run in a distinct, individual manner based on the publisher's personality and agenda. The exhibition showcased how this was reflected in the design and production of the books they published.
The exhibition featured a variety of rarely seen artefacts from private archives and collections. First editions, photographs, artwork, correspondence, layout sketches and illustrations allowed the viewer to gain a true understanding of the nature of book design and production of little presses in this post-WW2 period.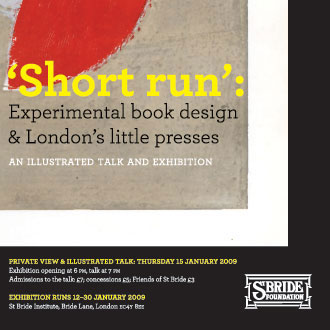 book design,craft,exhibition,London,mass production,publishing,-